1974
Fire destroys row of frame buildings on Power Street leaving 18 families homeless. Parishioners of St. Nicholas Roman Catholic Church responded immediately to help their neighbors rebuild their lives.
1975
Group of church activists resolved to rebuild housing on the site of the fire and stem neighborhood decline, leading to the formation of the St. Nicholas Neighborhood Preservation Corporation.

St. Nicholas Neighborhood Preservation Corporation, nicknamed "St. Nicks," hired 20 unemployed neighborhood residents to serve as staff under the federal CETA program. Merchants and homeowners donated office supplies and operating funds.
1976
"St. Nicks" staff began providing service to neighborhood tenants, homeowners, and the elderly.
Led anti-"red-lining" protest that prompts banks to invest $25 million in new mortgage funds.
Founded Greenline: North Brooklyn Community News as a community-owner enterprise to support revitalization effort and publish neighborhood news.
1977
"St. Nicks" began research and strategic planning effort as foundation for housing and economic development initiatives.
Received federal Department of Housing and Urban Development (HUD) financing commitment to build 150 units of senior citizen housing known as Jennings Hall on the site of the Powers Street homes destroyed in the 1974 fire.
1978
Organized merchants and created new partnerships to develop Grand-Metro commercial revitalization strategy.
Secured commitment from City of New York to begin rehabilitation of tax foreclosed buildings through the Community Management Program.
1980
Completed rehabilitation of Jennings Hall that opened housing for 150 elderly residents.
1981
Formed partnership with business leaders and developed industrial preservation and job-creation strategy, and established the East Williamsburg Valley Industrial Development Corporation (EWVIDCO).
1982
In 1982, the NYC Health and Hospitals Corporation (HHC) announced its plan to close the 67-year-old Greenpoint Hospital. Ignoring plans that had been presented to the Department of Housing and Preservation Development for redevelopment of a nursing home and senior housing, the Department of Housing and Preservation obtained a consent decree to convert Greenpoint Hospital to a men's homeless shelter. Without consulting the community, HHC moved forty homeless men into the main building in the middle of the night; in a short time, the numbers rose to 1,200. The result was neglect of the men, along with a profound disturbance, to the quality of life in the neighborhood.A coalition of neighborhood groups formed The Greenpoint Renaissance Enterprise Corporation (GREC). After protesting the hospital closing, and trying to limit the numbers in the homeless shelter, GREC worked to present its vision for housing and a nursing home to the Community Board. They voted in favor and Neighborhood Women received three hospital buildings to convert into thirty-three units of housing. These are the Neighborhood Women Houses.
1983
East Williamsburg industrial area designated as an In-Place Industrial Park.
1984
Obtained financing to build 1,400 square-feet retail anchor (Grand-Metro Retail Plaza). Chemical Bank, Local Initiatives Support Corporation (LISC), Brooklyn Union Gas Company, the New York City Public Development Corporation, the Department of Housing and Urban Development, and the New York State Division of housing and Community Renewal joined the project.
Joined collaborative effort with six other organizations, known as the Greenpoint Renaissance Enterprise Corporation (GREC), to oversee the redevelopment of the former Greenpoint Hospital.
Home Care Program expands to serve 400 clients.
1985
Committed to Maujer Street, Union Avenue, and Ten Eyck Street revitalization strategy leading to development of nine buildings, construction of park and development of 175 units of affordable housing.
1986
EWVIDCO formed industrial security patrol. In partnership with innovative New York Police Department initiative, crime rate dropped by 60 percent.
Formed Pipeline, a community-owner fuel oil cooperative.
Completed rehabilitation of Metro and Lormet Houses, creating 100 units of housing for families and the elderly.
Organized property owners and merchants to create Grand Street Business Improvement District, the first neighborhood retail BID in New York City.
Opened Grand-Metro Retail Plaza with 14,000 square feet of new retail space to anchor commercial district; vacancy rate on Grand Street declined from 25% to 5%.
EWVIDCO created employment service as innovative link between economic development investment and neighborhood employment.
Home care program expanded to serve 600 clients.
1989
Started construction on Park View Terrace, creating 16 new two-family homes on Sharon Street.
Greenpoint Renaissance Enterprise Corporation won lawsuit and rehabilitated four buildings of the former Greenpoint Hospital, creating 45 units of affordable housing.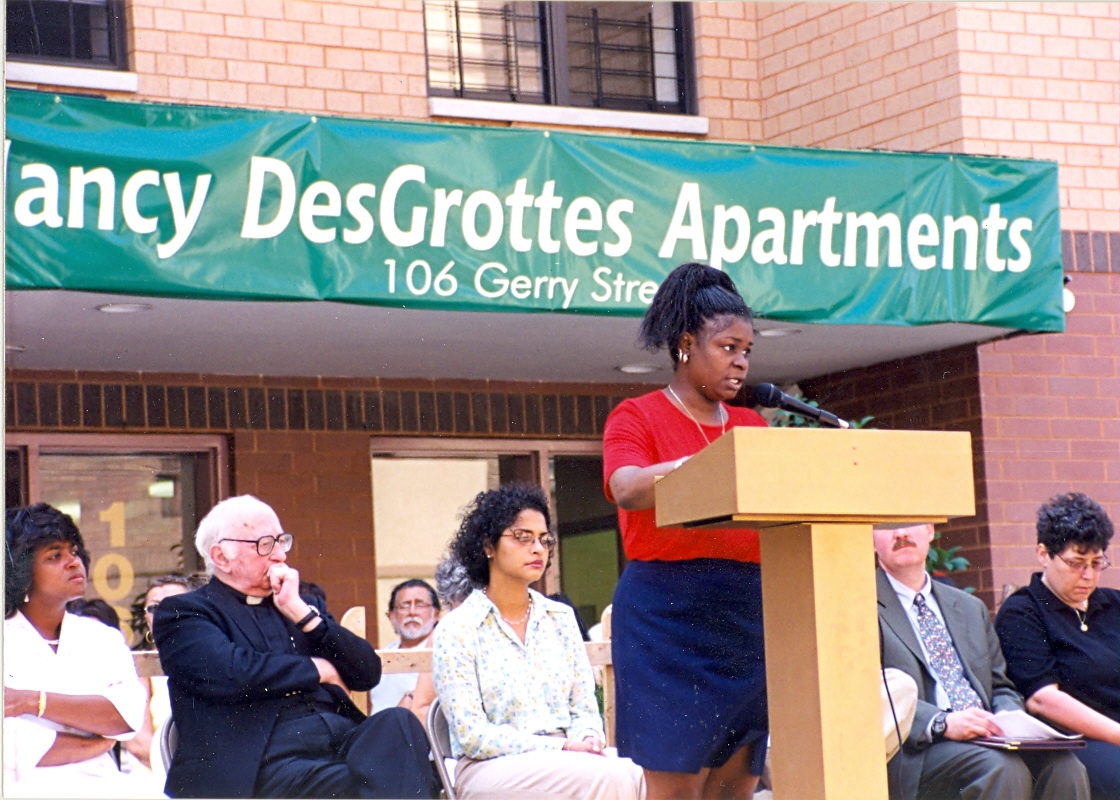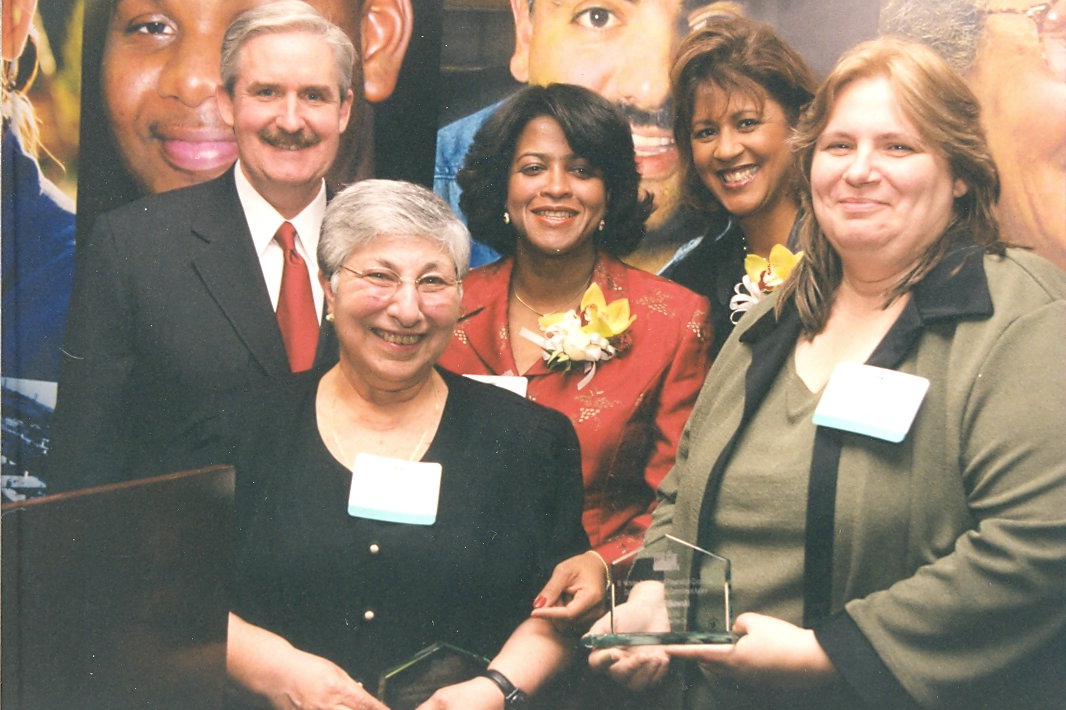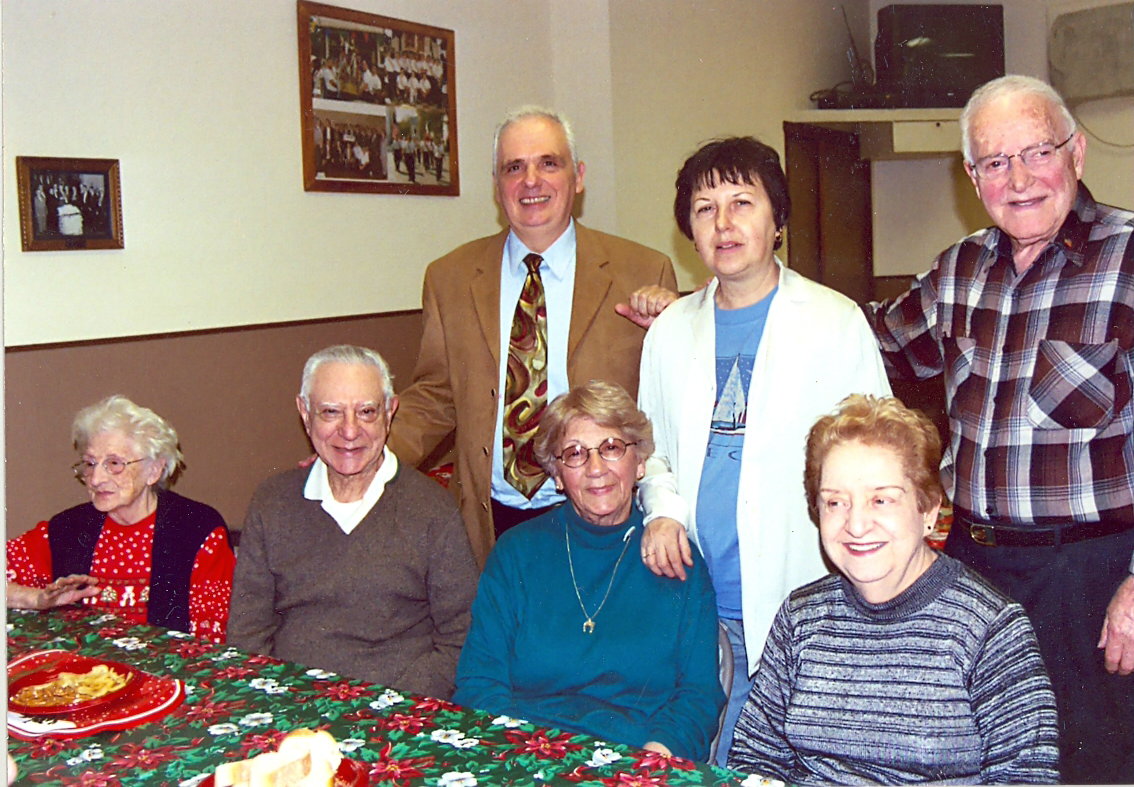 1990
Rehabilitated 960-962 Broadway, the first two buildings renovated under the Broadway Triangle Redevelopment Plan.
Home care program expanded to serve 800 clients.
1991
Responded to AIDS crisis by creating scatter-site housing program to provide 40 units of housing with enriched social and health services.
1992
Completed rehabilitation of all vacant, tax-foreclosed, city-owned housing in the community!
Started construction of Pratt Homes, a project that resulted in 150 new two-family homes within the Broadway Triangle. "St. Nicks" joined with Los Sures and the Association of Brooklyn Clergy Community Corporation as sponsors.
Finished construction of Williamsburg Court, completing 59 new units of housing and demonstrating how high-quality design can be achieved in construction.
"St. Nicks" joined with Neighborhood Women of Williamsburg-Greenpoint to manage 33 units of housing developed by NWWG.
1994
"St. Nicks" and Woodhull District Management Association selected to manage and revitalize the Moore Street Public Market.
Commenced the Local Initiative Support Corporation-supported planning process to define second-wave revitalization strategies which led to focus on Youth and Family Services.
Began small after-school program at 306 Union Avenue.
Proposed skilled nursing facility to be located on former Greenpoint Hospital site. This project was the linchpin of a continuum of health and residential care initiatives.
1995
Formed Greater Williamsburg Collaborative (GWC) with Los Sures, United Jewish Organizations of Williamsburg, and Brooklyn Navy Yard Development Organization with mission to create jobs and new business enterprises.
GWC spawned designation of Navy Yard/East Williamsburg Economic Development Zone and creation of Williamsburg Entrepreneurship Roundtable.
With GREC, received certificate of need for 240-bed skilled nursing facility project to be located on former Greenpoint Hospital site and won conditional approval.
Opened the St. Nicholas Williamsburg Beacon Community Center with a focus on after school (Grades K-6) and high school (Grades 9-12) services.
1997
Scatter Site Housing expanded to 160 customers and their families and added new services and activities. This expansion required a move to new space in the former Greenpoint Hospital complex.
1998
Through the Greater Williamsburg Collaborative, Williamsburg Works moved to 545 Broadway and created what has become a nationally recognized welfare-to-work initiative, leading to the formation of the city-wide EARNFair Alliance with SEEDCO.
1999
Opened the St. Nicholas Greenpoint Beacon Center at JHS 126.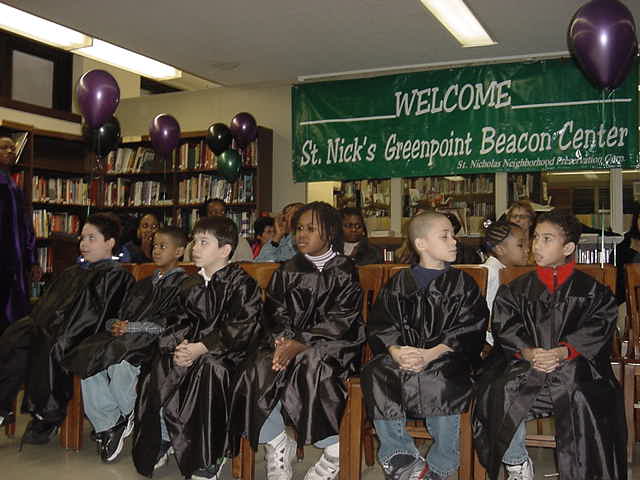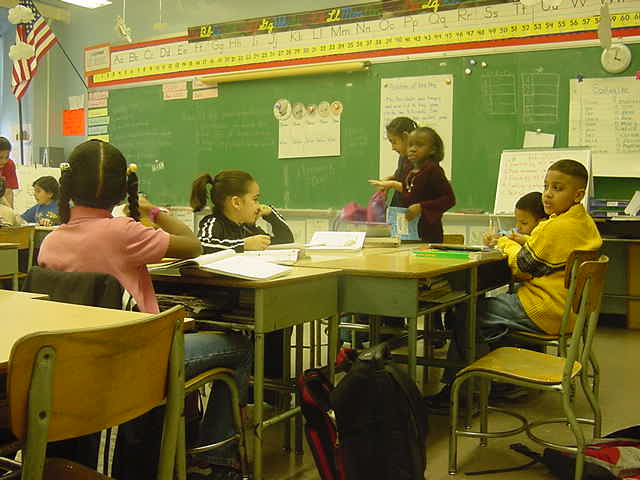 2000
OUTRAGE, Organizations United for Trash Reduction and Garbage Equity, secured a moratorium on new or expanded waste transfer stations in the Greenpoint-Williamsburg community.
Dedicated the Emma Feliciano building, a new construction development of 23 units of affordable housing on Johnson Avenue.
2001
Opened Union Avenue Family Center, a model for after-school programming and catalyst for community building in an area where "St. Nicks" has done extensive development.
Dedicated the Nancy DeGrottes Apartments, a 50-unit new construction building as a joint venture with Los Sures.
Scatter Site Housing Program expanded to 177 units in response to growing housing shortage.
Launched a new skill training program to prepare residents for work in high-paying positions as environmental technicians.
Opened new after-school program at PS 250 in partnership with the Board of Education and The After School Corporation.
Air-conditioning installed at the Moore Street Market.
Opened the North Brooklyn Growth Fund to provide start-up capital for neighborhood entrepreneurs.
Launched Neighborhood Houses and Neighborhood Revitalization Program II which will rehabilitate small homes and expand home ownership in Williamsburg- Greenpoint.
Opened computer training center at Williamsburg Works, Jennings Hall Senior Housing, and Swinging Sixties Senior Center.
2003
Revamped Greenline to be more competitive in the marketplace.
Launched new affordable housing plan intended to slow displacement and build 800 new units of affordable housing.
Reinvented our affordable housing development strategies in Greenpoint and Williamsburg.
Launched our major neighborhood land-use analysis, zoning study and planning process, with affiliate East Williamsburg Valley Industrial Development Corporation.
"St. Nicks" received final approval to open the Williamsburg Charter School in the fall of 2004, Brooklyn's first charter high school.
Rehabilitated 21 buildings with 65 rental and owner-occupied affordable units, under the Neighborhood Homes and Neighborhood Revitalization Program.
Opened two new advanced after-school programs at PS 250 and All Saints School.
"St. Nicks" Entrepreneurship Center gave critical assistance to more than 50 local small business owners.
Hundreds of New Yorkers got living wage jobs through Williamsburg Works, "St. Nicks" workforce development program.
More than 800 of the neighborhood's frail and elderly received quality home care services from the St. Nicholas Human Support Corp.
2004
Opened the Williamsburg Charter School, New York City's first stand-alone charter high school.
Board of directors drafted new mission statement that captured our purpose as we reshaped our focus in a new century.
$800,000 renovation of Jennings Hall to open new 40-bed Assisted Living Program.
Launched a major study of the Broadway Triangle area.
Trained local resident entrepreneurs to grow a business, including launching four new businesses in Brooklyn.
Personal care services, such as housekeeping, cooking, and personal grooming were provided to over 800 Medicaid-eligible clients.
2005
"St. Nicks" expanded its high quality after school programs from 600 to 1,400 grade school, middle school and high school students, throughout Williamsburg and Greenpoint.
The "St. Nicks"-sponsored Williamsburg Charter High School in 2005 accepted its Class of 2009. It is New York City 's only freestanding charter high school.
In 2005, "St. Nicks" Human Support Corporation provided daily health care to more than 800 frail or elderly New Yorkers and provided jobs for 1,000 home care workers.
"St. Nicks" and its economic development partner EWVIDCO have over the years created or retained over 10,000 industrial jobs in the North Brooklyn/Brooklyn Navy Yard Empire Zone.
EWVIDCO expanded its job preservation strategies to the new Greenpoint Industrial Business Zone. In 2005, "St. Nicks" has also helped to reorganize the Grand Street Business Improvement District and achieved 100% occupancy at the Moore Street Public Market.
"St. Nicks" played an important role in gaining an historic and unprecedented victory for affordable housing in the Williamsburg-Greenpoint rezoning plan, which will create 3,500 affordable housing units.
OUTRAGE, Organizations United for Trash Reduction and Garbage Equity, a group organized by "St. Nicks", in 2005 gained a major victory in the battle over the location of waste transfer stations that will greatly improve the air quality throughout North Brooklyn.
Our workforce development division, known as Williamsburg Works, achieved a major turnaround and restructuring to help hundreds of people each year get a job that pays a living wage.
We also dramatically expanded our high-wage environmental remediation training program with support from the Local Initiatives Support Corporation.
2006
Served over 1,600 children in our literacy-focused after school programs at 12 North Brooklyn locations in 2006. Also added P.S. 19, a new after school location.
Went to scale with Environmental Remediation Technician training, expanding to five cycles and graduating 123 people with credentials for high-wage jobs ($13.50 to $32 p/hr). Federal training certificates were leveraged through the NYC Dept of Small Business Services.
Placed nearly 900 young people in summer jobs and over 100 at-risk students in work experience as a reward for improved academic performance.
Youth & Education began collaborating with the Joan Mitchell Foundation to provide after school participants with the best possible art instruction.
Launched a new children's theater program and opened a new computer center at School Settlement Association.
2007
EWVIDCO secured two major NYC Industrial Business Zone contracts: the Greenpoint-Williamsburg IBZ and the North Brooklyn IBZ, containing 750 businesses.
"St. Nicks" graduated 10 entrepreneurs from its business plan writing class in its newly-rebranded Brooklyn Business Center (BBC).
2009
Changed our name. The organization sought to rebuild the residential, commercial and industrial infrastructure as well as the fabric of community for seniors, young people, the unemployed and families, as well as people with special needs. The name 'Alliance' is an acknowledgement that "St. Nicks" includes an array of volunteer grassroots and affiliated organizations with their own leadership. Behind each of the Alliance organizations is a broad vision, web of community support and a deep capacity to achieve.
We also adopted the tagline, "Where Opportunity Grows", a twist on Betty Smith's novel about Williamsburg, A Tree Grows in Brooklyn. Not only are trees growing in Brooklyn, but green opportunities are growing for people of modest means, those who face substantial economic and developmental challenges and those residents and businesses who build community.
2017 and beyond:
We're only just getting started.